---
Autonomous Planning for the Off-Road Environment
Off-road autonomy has substantially different challenges than on-road applications.
Uncrewed ground vehicle autonomy for off-road environments includes rolling and cluttered terrain in addition to a lack of GPS and detailed maps.
Neya System's autonomy takes a modular approach to provide a full-stack solution that is easily integrated on a variety of vehicles and platforms to provide advanced navigation capabilities in cluttered three-dimensional terrain.
---
Key features of Neya's autonomy software
Operation with minimal to no GPS dependency
Optimized for operation in cluttered, dense environments
Plug-ins for novel maneuver planners for vehicle and environment-specific capabilities
Reactive planner with integrated vehicle model to take advantage of novel vehicle capabilities
High modularity and rapid integration with drive-by-wire platforms and perception sensors
Reactive & Maneuver planning
Neya's autonomy planning software, AM3P, includes a reactive planner customized to the unique characteristics of your platform and a library of maneuver planners created for complex landscapes.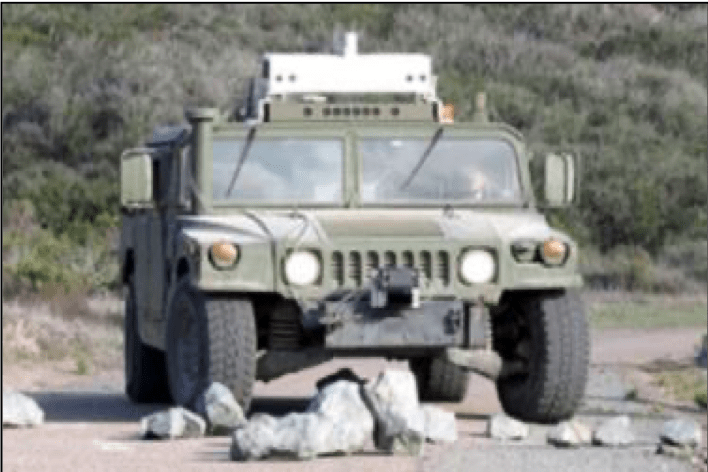 Individual Wheel Placement
Selectively reasons about individual wheel placement factoring in vehicle underbody clearance, roll, and pitch, enabling navigation in extremely uneven terrain without high-center or tip-over risk.
Self-Supervised Mobility Learning
Uses self-supervised mobility learning to determine the physical characteristics of a particular vehicle in order to optimize performance and ease installation onto new platforms.
Unsupervised World Model Adaptation
Employs unsupervised world model adaptation to learn interpretation of world model data (confidence, error rate, probabilistic terrain traversability estimates.)
Vehicle and Sensor Agnostic
Neya's autonomy is highly modular, simplifying integration with
new platforms, new sensors, and new planning algorithms.
Autonomous off-road go-to-point